"The more you realize what your work is on earth, the more you are in tune with nature..." These are some of the pearls that musician and guitarist Sibusile Xaba shared with the audience.
In April 2018, Afropolitan Explosiv hosted Xaba for an Artist Talk Session with members of the KZN creative community. This included music and poetry performances, and a discussion with Xaba himself. The event was held at The Creative Hub operated by Afropolitan Explosiv, which is located at the Old Mutual Building, in Newcastle CBD.
In attendance we had poets, musicians, activists and other folk with like minds. But as headliner, we had Newcastle born and raised innovative muso, Sibusile Xaba.
"We can only speak better with the gift of music that we have been given by the Creator, Ancestors, or wherever it comes." That is how Xaba opened the session. But one cannot decide what would they prefer to hear from him more, his music or teachings, because they are both peaches, cream and soul. Along with these two, he also brought his smile that seems to have been on this earth for at least three lifetimes. A healing smile!
He shared with us his journey as a school pupil, and how his experiences there led him to where he is now. "At school we were rebellious, but teachers noticed that art related activities kept us in order…after completing grade 12, I worked for a year at a petrol garage, to save up money to go and study music." He matriculated at St Oswald's Secondary School in Newcastle, and went on to study jazz music at Tshwane University of Technology in Pretoria.
He also shared with us of how he sometimes would not have money to pay rent, so he would find himself in the streets of Sunnyside. But fortunately, there was a man known as Bra Aubrey, whom they called Godfather, who gave them his garage to sleep in for a month or two. He also gave them the corner of his bottle store so they could busk there, in order to make money for food. This he went through with members of 4 Seasons, a band he was a part of.
Xaba visited us right in time, after the release of his debut double CD album titled Open Letter To Adoniah and Unlearning. One may ask why he is only releasing his first album at the age of 33, until they hear the music, then they will say, "Aaah, so that's why it took so long."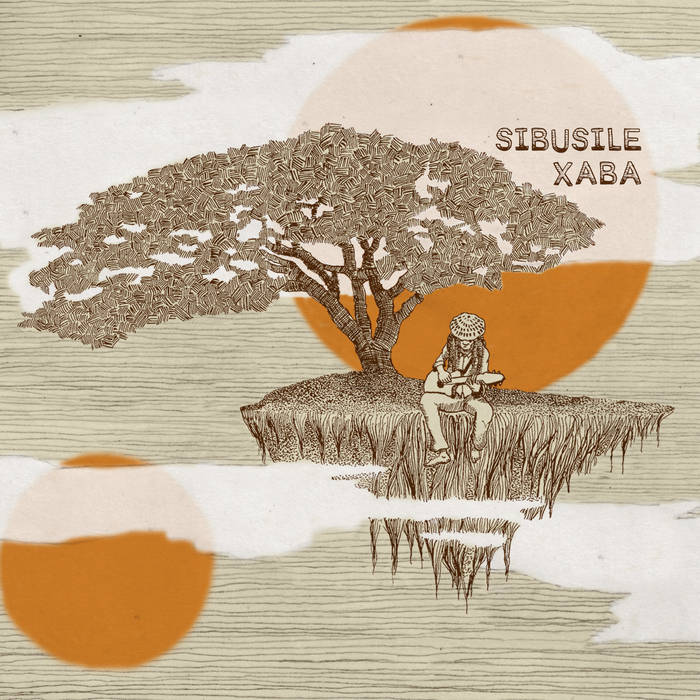 At the event, he shared with us his journey as an artist.His music has an undeniable influence of African greats like Phillip Tabane, Madala Kunene and the innovation of jazz. It is also laced with a childlike creativity that can also be used as a lullaby to send both infants and adults to a peaceful sleep. In-between lyrics, he also accompanies the melody with a contagious kind of laughter (or glottaling) that reminds one that life is not that serious.
"We are not thinking about where the music is going, we are following the music. To submit to sound enables one to do that…and there are no wrong notes…" Many artists usually see themselves as artists, then human beings, but Xaba has a different view.  He says he is more than jut a musician.
Music is a secondary thing, you are first a human being. If the human being is off tune, so will the music be…artists usually fall for the trap of what it is to make it (wealth and recognition) until they forget about their true essence. I am not just a musician, I am a whole other things. I see myself as an activist with regards to the African agenda, and the work that needs to be done. I see myself as a father to my daughter and a brother…Music is just a medium.
Music brings people together, and this is what Xaba thinks about social gatherings, "Meeting other people is like a passage that leads you somewhere else." On this, he also emphasised the importance of solitude, "When you make time for yourself, you vibrate at a higher frequency, and when you meet other people, you go even higher in unison, which comes back down as blessings."
"After studying music", Xaba concluded, "I thought I was the hippest thing. I could read music, but one day I realized that I could not play it…then I decided to let go, and then I bumped into this sound." The sound he talks about is what he shared with the audience. How can one explain Xaba's style of music? The closest thing to it, is the language spoken by the tips of long grass in a large open field. Xaba also mentioned that, for composing his debut album, he received the melodies in dreams, upon waking up, he would pick up his guitar and it would be like a continuation of the dream. The album was recorded in the Magaliesberg, a mountain range 70KM west of Johannesburg.
Xaba also let us in on some of his rituals, "Water absorbs a lot of energy, because we are made of water. So what I do everyday is, I take a container of water, and write on it whatever is on my mind, it may be: happiness, joy, peace, wealth, laughter and then I drink the water. Doing this changed my life." It is such practices that give birth to new beliefs that are relevant for the contemporary individual. Xaba also frequently mansions the involvement of the Almighty in his life, but not in the conventional religious sense of an Almighty that is out there, "We acknowledge the Almighty within self," he said.
After the event, the I also got a chance to have a one-on-one conversation with Xaba. We spoke about jazz and it's influence not just on black culture, but universally. Jazz music is one of those inventions the black community can claim as their own. As Nina Simone said, "Jazz is more than just music, it's a way of life, it's a way of thinking, a way of being." Jazz has an attitude that says, "Don't you don't me!" From it, black folk have been able to shape a new identity for themselves, a new religion that sweeps away the web which poisons the mind with foggy logic.
Xaba is just a burst of life, and a formidable shadow that does not belong to Africa alone. But he is a child of the air, that seems to be one of the children that are picking up where mystics like painist Moses Molelekwa and healers like composer Zim Ngqawana left off.
Follow Sibusile Xaba on Facebook 
By  Nanu  Mabaso,
Copyright © 2018 Afropolitan Explosiv, All rights reserved.